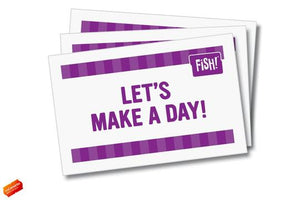 There is nothing more rewarding than the feeling you get when you have truly made someone's day. It gives a person purpose and a sense of achievement and can often be the difference between someone having a really negative and difficult day and having a day that is fun, enjoyable, and productive. We all know the importance of being kind and looking after others. But do we really know how to Make Someone's Day?
When you introduce FISH! to your team it is not just about being polite and thanking people after they do a favour for you. When people adopt FISH! and take it to heart they are actually on the lookout for people that need their day made. Now we all know that everyone is different and therefore before you can truly make someone's day you have to Be There. Start to pay attention to what members of your team love, what are they passionate about, Play this fun day, and become a Day Maker.
Use these Make A Day cards to play a fun day either online or in-person with your team and find creative ways to make each other's day. You can use these in small team meetings to also identify what would make your customers' days too.