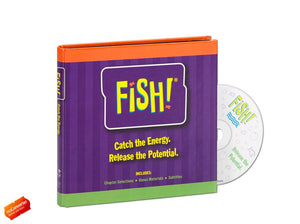 Imagine a workplace where everyone chooses to bring energy, passion and a positive attitude with them each day. An environment in which people are truly connected to their work to their colleagues and to their customers. Impossible? Not at all.
Share the World Famous Original FISH! film with your team and help lead your people toward creating that environment of what we call The FISH! Philosophy. Be There, Make Their Day, Choose Your Attitude and Play.
Includes Chapter Selections, Bonus Materials and Subtitles. This film is 18 minutes in length. We are selling our last DVDs and will no longer be stocking these so if you still have capability to play a DVD this is an affordable way to own the #1 Culture Training Film to share with your team.