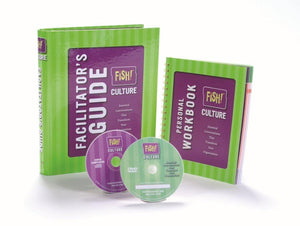 Even a powerful idea like The FISH! Philosophy needs regular attention. FISH! Culture offers expanded resources to help you keep the energy of FISH! alive.
This is the next step if you have already shared the original FISH! Philosophy film about the World Famous Seattle Pike Place Fishmongers throwing their energy and enthusiasm into every day at the Fish Market. Now looking for how to help keep this energy alive and well. 

The FISH! Culture Facilitator's Guide includes scripts and videos for leading 10 essential "conversations". In these followup sessions, the team watches a short video that explores one aspect of The FISH! Philosophy. Prompted by questions in the guide, the team discusses how to apply FISH! in a way that works best for them. The guide also outlines activities that help the team understand and apply each practice. These conversations give everyone a chance to contribute, increasing a sense of personal ownership.