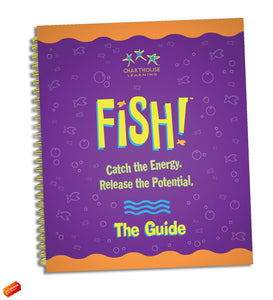 Catch the Energy. Release the Potential. Use this guide in conjunction with FISH! film on USB or DVD.
Share the World Famous Original FISH! Foundations in this Guide with your team and help lead your people toward creating that environment of what we call The FISH! Philosophy. Be There, Make Their Day, Choose Your Attitude and Play.
This 88 page guide book will help you with keeping the FISH vision alive with your team.